Using a teeth whitening strip before an event or opting for whitening mouthwash for daily use may seem like a 21st-century spectacle. However, people have desired whiter smiles for several centuries.
There are reports of how Egyptians used a paste made from vinegar and pumice stone to shine their teeth. Romans used urine to clean their teeth because the ammonia brightened the dental surface.
Later, the use of hydrogen peroxide became popular, especially when dentist William Klusimer invented the use of hydrogen peroxide-based whitening agents. In the late 1980s, carbamide peroxide became more prevalent.
In the quest for a dazzling and everlasting smile, scientists have made notable advancements. One of them is a light-activated teeth whitening procedure. This breakthrough has revolutionized the teeth whitening industry, thus enhancing its efficiency and delivering remarkable results. Let's explore how whitening lights have become integral to teeth whitening procedures.
The Science of Illumination: How Does LED Light Help with Teeth Whitening Procedure?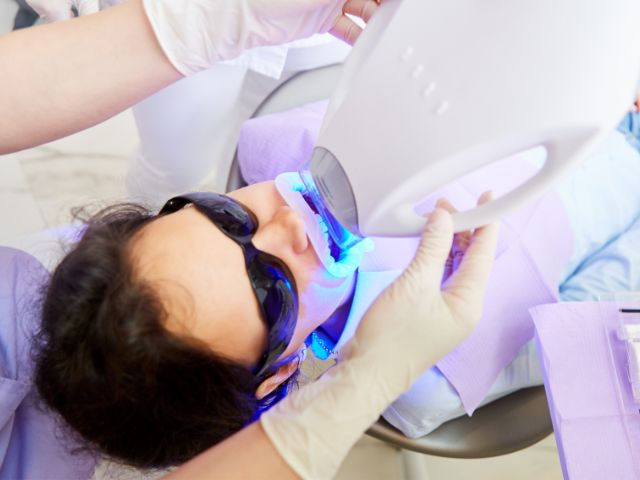 To understand how LED light works for whitening teeth, we need to understand dental whitening treatment in detail. When one decides to have teeth professionally whitened, the dentist or dental professional will clean the teeth and apply a whitening gel/agent to lighten the dental surface.
Due to the porous nature of teeth, the whitening gel/agent is absorbed by the enamel and dentin layers of the tooth. When the oxidation occurs, the active ingredients of the whitening agent dissolve the stains and result in whiter teeth.
Dental professionals use LED (Light-Emitting Diode) light to expedite the oxidation process and deliver a beautiful smile in no time. Did you know UV and halogen lights were part of the teeth-whitening process in the past? However, LED lights are more popular today because they do not radiate heat on the dental surface. They prove to be a safer alternative in comparison to other options.
When one uses LED lights with teeth-whitening agents, the process intensifies the whitening results by breaking down stubborn stains such as those caused by wine, tomato sauce, cigarettes, coffee, tea, etc.
What are the Advantages of LED Teeth Whitening Lights?
LED teeth whitening lights have quickly become a standard practice among dental professionals because of the several benefits they offer:
LED lights are durable and require minimal power. They do not need to warm up before use, which makes them a cost-effective solution.


LED lights are brighter than other types of lights. But, they do not dissipate heat, thus making them the ideal option for teeth whitening treatments.


They improve the efficacy of whitening agents and ensure noticeable teeth whitening results in a short span. Compared to traditional methods, combining LED whitening devices and professional-grade teeth whitening gel promises intensive removal of stains.


LED lights, specifically designed for whitening teeth, do not cause additional sensitivity issues and promise optimal results, thus enhancing the client's overall satisfaction.
Shedding Light: Answering FAQs related to LED Teeth Whitening
Whether you are a business person or a retail customer, you may have questions related to LED teeth whitening. Let's find answers to common queries and gain more clarity on the subject.
1. Does LED Teeth Whitening Work?
Yes, there have been several research studies that conclude the efficacy of LED teeth whitening treatments. With controlled activation of whitening agents, LED teeth whitening lights can lead to enhanced whitening results. Use LED lights specifically designed for teeth whitening procedures to ensure optimal results.
2. Is it Safe to Use LED Lights for Whitening Teeth?
Do not use any LED lamps lying around your home. Select LED lights manufactured with the specific purpose of whitening teeth. When you buy from a reputed manufacturer, the LED lights target stains without causing harm to the teeth, gums, and surrounding tissues.
To ensure the safety of the dental surface and avoid any sensitivity issues, one must use the LED teeth whitening lights correctly. Follow the manufacturer's instructions and use the LED devices for the recommended length of time.
3. Does Blue Color Light Work for Teeth Whitening?
Blue LED teeth whitening lights are popular due to their ability to activate whitening agents effectively. However, using blue LED teeth whitening lights alone cannot whiten teeth. One needs to use them with a whitening agent. Blue light treatments are becoming popular among Americans because experts consider them safer than UV lights.
You will find many over-the-counter teeth whitening kits with a blue LED teeth whitening device for intensifying the results.
4. Teeth Whitening Strips vs. LED Lights: What is the Best Option?
Considering stubborn dental stains, professional LED teeth whitening lights will outshine whitening strips. When you want to enhance the overall look of your teeth and make them several shades lighter, opt for chairside LED teeth whitening procedures.
On the other hand, teeth whitening strips are the go-to choice for quick touch-ups. If you want to maintain your chairside teeth whitening treatment for a long time, use whitening strips periodically and increase the duration between two in-office procedures.
5. Are there any Alternatives to LED Teeth Whitening Lights?
Dental clinics and teeth whitening businesses commonly use LED teeth whitening devices. However, their usage is not mandatory. You can opt for
traditional whitening methods include toothpaste, gels, and professional in-office treatments without LED lights.
6. What to expect from Professional LED Teeth Whitening Treatment?
When you book an appointment for teeth whitening at the dental clinic, the dentist will check your teeth to ascertain the number of treatments you will require. When you come in for the treatment, you can expect the following:
The clinic staff will measure your current tooth shade and record it.


The dentist will then remove plaque from the dental surface so that the whitening agent can access the enamel easily.


They will have lip and cheek retractors to keep your lips and cheek away from the surface of the teeth.


Many use a protective barrier to ensure the gums do not come in contact with whitening gel and, thus, reduce the chances of irritation.


Then, they will apply a whitening agent and use a chairside LED blue light to expedite the whitening process. Depending on the treatment, the dentist may leave the LED light on for an hour or more.


Once the dentist achieves the desired level of whiteness, they will clean the whitening gel from the teeth and apply post-whitening revitalizing swabs to hydrate your lips and gums.


The dentist may schedule another appointment if you want your teeth a few shades whiter.
You can expect a similar service at a local spa/salon and mobile teeth whitening business.
7. Should you Buy LED Teeth Whitening Lights for your Business?
The initial cost of LED teeth whitening lights may act as a deterrent in choosing them. However, if you run a teeth whitening business, chairside LED whitening lights will be a worthy investment. Whether you are a dental professional with a clinic or own a spa/salon that offers teeth whitening services, you can benefit from investing in teeth whitening lights. You will have to incur a one-time cost but will be able to charge a premium for exceptional and safe teeth whitening results.
If you own an online business selling teeth whitening kits to retail customers, strengthen your portfolio with portable LED teeth whitening lights.
Thanks to social media, there is a growing awareness for teeth whitening treatments and the popularity of wireless LED teeth whitening devices to maintain professional results at home.
In conclusion
LED teeth whitening lights help in achieving brilliant smiles. Dental clinics, teeth-whitening businesses, spas, and salons can incorporate LED whitening lights into their services to revolutionize their offerings. They can provide a competitive edge by delivering optimal whitening and enhanced customer satisfaction, thus attracting a broader clientele.